Running Around with Isolde (And a word on running around Europe this summer)
Deutsche Oper am Rhein
18 July Düsseldorf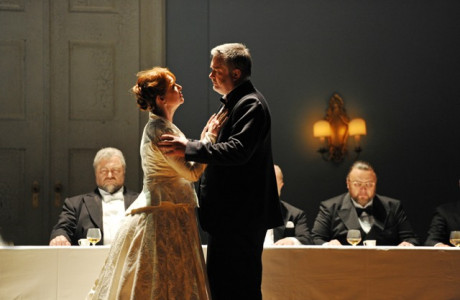 If you're familiar with the circumstances behind the composition of
Tristan und Isolde
, you know that Richard Wagner's crush on a married lady named
Mathilde Wesendonck
became sublimated into the character of Isolde.
Is the opera, then, a fantasia on Ricky's thing for Milly? Little doubt on the matter is left by
Claus Guth
's new production for the
Deutsche Oper am Rhein
. Set and costume designer
Christian Schmit
t uses a revolving stage to display various parts of an opulent 19th century villa -- reminiscent if not an exact replica of the Wesendonck residence in Zurich, where Wagner and his first wife took refuge during much of his forced exile from Germany in the mid-1850s.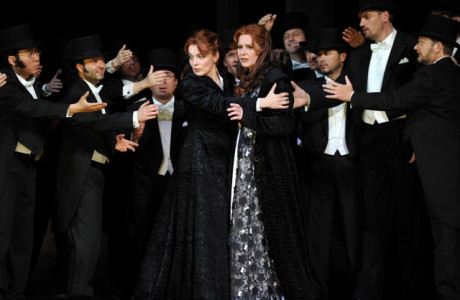 The first act begins in Isolde's bedroom and spins into Tristan's appartement where Brangäne seeks to force him into an interview with her mistress. The second act is set during a ball, where the lovers find each other during an elaborate quasi-gavotte choreographed by Volker Michl -- think the Ball Scene in Minnelli's
Madame Bovary
, but in cut-two tempo -- and escape via turntable through hallways and ante-rooms to the banquet hall, where they ultimately feast upon their passion, yup, on the dining table.
The final act appears to start off in one of the neglected parts of the villa and ends up back in the dining hall, where Isolde ladles out her Liebestod.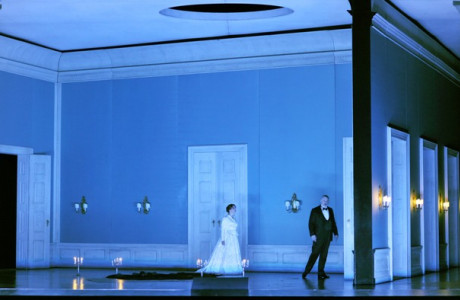 Guth grants his spectators license to follow the lovers running literally in rings around the house, by keeping the revolving stage revolving -- sort of
Last Year in Marienbad
on a carousel. Leading one to speculate that Guth's take-away is quite simply: Liebe makes the world go 'round. But if the sets are meant to represent the Wesendonck Villa, how is running around in circles in the throes of drug-induced passion within the confines of a stately mansion distinguished from insanely perambulating someplace else? This summer's reportedly hottest film,
Inception
, might offer a clue: extrude the nexus of the love dream by invading the dream and implanting a dream about the love dream -- uh, or something like that. Or maybe
Mike Ryan
could explain it better.
While Guth's conceit doesn't quite work, it manages to capture the attention and pursues the memory after the final curtain descends. And much of its effectiveness is owed to the redoubtable singers in the eponymous roles. Both
Janice Baird
and
Ian Storey
clearly bought into Guth's concept, and they worked hard at keeping it from revolving into a marose marathon.
Storey is currently the Cinderella Boy of opera. He's been making the rounds for at least 20 years, but few took notice of him until his debut two years ago as Tristan at La Scala. Through the magic of a live TV relay, thousands of people witnessed a star being born. Uploads to YouTube enabled millions of others to witness the birth again and again.
But Storey is no Susan Boyle in butch drag. While his coal-mining, up-from-the-North Country (he was born in Chilton, County Durham) background makes him a shoo-in for Britain's Got Talent, his voice may not be instantly appealing. It is dark, smoky and, remarkably, devoid of perceptible gears between the middle and upper registers. It has both the plus and minus of reminding you here and there of some past and current Wagner tenors -- John Mitchinson, but less intense in the agonized passages of the third act; Robert Gambill, but darker below G; John Uhlenhopp, but smoother sounding above D flat. He sings and acts with unforced concentration and he's among the taller Tristans of today. While the sound of his tenor is compelling, his Mad Scene in the third act, intimates little of the tortured longing the music demands. Nonetheless, Storey lives up to the hype that's carried him star-ward; he is the real thing.
Janice Baird has been opera's Cinderella-Before-the-Ball for decades, undeservedly so in my view. Even a superbly sung Isolde taken over from Deborah Voigt in mid-performance at the Met a few years ago failed to forge a breakthrough. Her Isolde in Düsseldorf, however, offered some clues to what may be holding her back. She tended to bully her outsize voice in louder passages and showed little inclination for singing below mezzo-forte where the notes threaten to rise above the staff. Still, she is a striking performer both vocally and visually, who merits more than un-sold-out houses.
Storey and Baird were surrounded by excellent support from principals, most of whom are new to me:
Hans-Peter König
as a commanding Marke,
Annette Seiltgen
as a brightly voiced Brangäne, and
Oleg Bryjak
as Kurvenal. Bryjak is one of the loudest Kurvenals I've ever heard and the ice in his delivery is hot. But he would do well to curb his proclivity for hectoring.
Axel Kober
is among an ever-growing crop of up and coming younger German conductors. The maturing process is evident in every succeeding performance I hear him conduct. His flexible tempi in Düsseldorf gravitated toward the slow side, but taking his time enabled the house orchestra to breathe infrequently heard details into the ebb and flow that marks the basic pulse of the second act. Again, no program credit for the marvelous English horn soloist of the third act.
-------------------------------------------------------------------------------------------
Now a few tips for those who may be Germany- or Europe-bound this summer:
No matter where you make a stop, your first task is to obtain public transportation tickets. Every city has some kind of offer for day-trippers, weekenders, etc. If you travel by German Rail, you can use your train ticket for local transportation for up to two hours after disembarking, providing you're riding on Inter-City or Inter-City Express trains. The privilege is not offered on regional or suburban transport. Inspections are becoming more frequent, and ticket-less passengers are subject to hefty fines and passport-stamping.
Generally speaking, exchange rates are lousy right now, but they are always much worse at money-changing outlets in airports and train stations. If you have travelers cheques or use credit cards for withdrawing euros, look for a bank or a money machine operated by a specific bank. The Sparkasse consortium is your best bang for your buck, pound, florin, etc. Sparkasse money machines are available in most airports and German Rail main train stations and branches are rarely farther than a few minutes' walk.
Eurailpass vs other discount travel programs. Eurailpass enables you to hop aboard any train at any time in any European country whose rail system honors it. You don't need a reservation, but you may be unable to find a seat without one: Tuesday through Thursday is the best period for train travel. DO NOT use your Eurailpass unless you are making a long journey (Hamburg-Munich or Budapest-Amsterdam, for examples) or are making several trips of moderate distances within the course of one day. You should book separately for short trips or outings. Eurailpass is worthwhile if you're traveling among three or more countries during your trip. Otherwise, check out the offers made by the rail systems of each country you are visiting. They could be cheaper and more flexible than Eurailpass. Remember also that if you start your journey, say, on Tuesday and arrive at your destination in the wee hours of Wednesday morning, you could be liable for two days' worth of Eurailpass. One way to get around this is to try paying separately for the shorter part of the journey in advance or when the train conductor first asks for your ticket. Nearly all international and trans-nation travel passes must be obtained before you leave the country where you officially reside.
And here (in no special order of preference) are a few tips on eateries in Germany. They are "locals" and I doubt if you'll find most of them in guidebooks. I recommend them because they are inexpensive or moderately priced, informal, and remain open for full meals until at least 22.45 hrs (10.45 pm):
Cologne:
Weissenburg Strasse 66
50670 Köln
Telefon: +49-221-7325580
www.cafeweissenburg.de
U-Bahn: Reichensperger Platz
Excellent food (a mix of German, Italian, Spanish). Friendly and prompt service. The menu changes daily. Breakfast available 09.00-13.00 hrs.
Outdoor seating.
Neusser Strasse 14
50670 Köln
U-Bahn: Ebertplatz



Super home-cooked Italiana. Friendly service. Check out the Pasta Amatriciana. Specials always offer surprises.

Outdoor seating. Closed Sunday.
Neusser Strasse 40
50670 Köln
0221 726910
U-Bahn: Ebertplatz
Relatively small, typical "local" serving delicious German and Cologne-region cuisine. Best for lunch. Arrive by 21.40 hrs (09.40 pm) if you want a late meal.
Outdoor seating.
Zülpicher Straße 7
50674 Köln
0221 248852
U-Bahn: Zülpicher Platz
Fast and open late. Good Italian cooking, very reasonably priced. The place to go if you eat late (kitchen open until at least midnight every day). Located in the heart of a popular student neighborhood.
Munich
I have yet to find a truly cheap restaurant serving edible food in Munich, reputedly the most expensive city in Germany. I can recommend only one moderate-upper moderate priced restaurant, whose standards far exceed its tarifs:
Prinzregentenplatz 12
81675 München
089 455 0650 (reservations recommended)
The cuisine is Bavarian-based but with a light, nouvelle twist -- the menu is always surprising and the offerings are often inspiring. The restaurant operates only on evenings when a performance is taking place in the adjoining landmark Prinzregententheater -- an architectural masterpiece modeled after the Festspielhaus in Bayreuth. The elegantly appointed restaurant is part of the Schubeck chain, whose flagship eatery is located near the Marienplatz. Take a good look at the Jugendstil furnishings as well as a breath-stopping ceiling in the Wintergarten that connects the restaurant to the theater. If your budget permits only one gastronomical splurge, go for Prinzipal.
Berlin
Germany's capital has some first-rank restaurants and legions of good ones. You can also dine quite reasonably in Marlene's hometown, but there are only three eateries to which I habitually return, because they are moderately priced, close to where I usually stay, and their kitchens remain open late.
Oranienburger Strasse 7
10178 Berlin
030 282-8995
S-Bahn: Hackscher Markt
One of the first bistros that opened in the former Soviet sector following the fall of the Wall. Excellent food. The menu (German-Continental) changes daily, presided over by Marie Baumeister, whose standards have never slipped. The place is also considered a "scene," but the friendly ambience doesn't deserve the moniker.
Rosenthaler strasse 42
10178 Berlin
030 280 998 77
S-Bahn Hackscher Markt
Those who know, know that the intersection at which this Italian restaurant stands is The Center of Now Berlin. The menu varies little, but the offerings are excellent, especially the fresh Tuna fish and tomato salad. Save room for desert; the pana cotta is excellent.
Karl-Liebesknecht Strasse 13
10178 Berlin-Mitte
U and S-Bahn: Alexanderplatz
I'm always amazed at the high quality of the food here, given its size. The place is huge, sometimes noisy, but the service is hospitable (by Berlin standards anyway), and the Schweinehaxe is second to few. The extensive menu offers noshing as well as multi-course alternatives. Berlin, like New York, is always changing, but Brauhaus-Mitte remains a haven of constancy.
Finale ultima:
a couple of thoughts on payment and tipping. Service is usually included on your restaurant bill, so tipping, while certainly recommended, is not absolutely obligatory. In bistros and no-star restaurants, 10 percent of the total after tax is a good rule to follow. For smaller bills in European Union countries, rounding out to the nearest 50 cent/Euro is a convenient solution. You should increase your tip, if you linger over coffee and desert. The longer you stay, the bigger the tip. Above all, pay the entire bill -- tip included -- when the server presents the check. Simply state the full amount you're paying as you hand over your money. Never leave gratuities on the table as you leave. Which also reminds me, many restaurants, especially in off-the-beaten-track areas do not accept credit cards, so make sure you know how you're expected to pay before you sit down.
© Sam H. Shirakawa